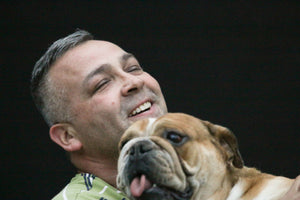 WHO WE ARE
Mike and Eva have both been animal lovers their entire lives. As a kid, Mike used to hide stray dogs, sneaking food from the kitchen while Eva was busy rescuing one down-trodden dog after another (much to her parents' dismay.) Their love for dogs continued into adulthood and ignited when their two paths crossed in 1987.
TEAM IAB
TOGETHER
Mike & Eva have loved and cared for hundreds of dogs of many breeds. 25 years ago, they narrowed their attention to bulldogs and committed themselves to improving the health and happiness of every bullie they encountered. This collective passion and dedication has led to the establishment of I AM BULLDOG.
OUR SERVICES
TEAM IAB
TODAY
Mike & Eva are fully committed to guiding bulldog lovers and their families on their journey to better understand, care for and support their furry companions.
GET IN TOUCH
WHAT WE BELIEVE
TRUST
Our 25+ years of experience with hundreds of satisfied customers around the world says it all.
READ OUR REVIEWS
COMMITMENT
From the moment you purchase a puppy from I AM BULLDOG, we are dedicated to you and your baby for life.
FIND YOUR BULLDOG
COMMUNITY
We are home to a large community of bulldog lovers spanning across six continents. We would love to have you become a part of this important movement.
JOIN IAB NATION
HOW WE WORK
BULLDOG
PUPPIES
Join our VIP Puppy List and state your preferences: male/female, English Bulldog/French Bulldog, puppy/young adult/mature adult, color preference etc.
GET ON THE VIP PUPPY LIST
SECURE TRANSPORTATION
Once you have selected the puppy of yourdreams, we have the experience and knowledge to ensure every puppy getstransported safely to their final destination.
LEARN MORE
LIFETIME HEALTH GUARANTEE
We understand that purchasing a puppy is an investment, and you deserve to be protected. Our lifetime guarantee is second to none on every puppy we sell.
LEARN MORE
I AM BULLDOG
FREEDOM, it's a beautiful sounding word, right? It also happens to be one of our favorite words. In a nutshell that is all any of us really want out of life: TRUE FREEDOM. Maybe you'd like to free up some time simply for self-care? Maybe you'd like to increase your household income a little, or a lot?
We are here to tell you that it is possible, and it can start from home. There's a better way to make an income besides working a 9 to 5. Folks are leaving their jobs and finding out that they can work from home, and have greater freedom, family flexibility and fulfillment. Is this happening to you? Are you realizing that you want more for yourself? What can you do? The world has changed, and the way that people earn incomes is also changing. Those that don't change will be left behind (financially). If there was a way to generate income from home, would you do it? Consider it? If you're open to having a conversation, we'd love to see how we can help. We'd be happy to share with you our FREEDOM journey. Simply reach out.
Mike and Eva Tucker 903-440-0553
THANK YOU TO ALL OF OUR SATISFIED CUSTOMERS
FOR THEIR 5 STAR REVIEWS